Design Team
Meet the team at Rafter's of Muskoka below.
David MacPhee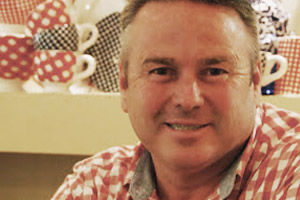 David MacPhee has been an exciting force in the Canadian design industry for over 25 years operating David MacPhee Design Services Ltd. His work has been featured in countless publications and on television shows including eight years on W Networks "The Decorating Challenge". David brings a wealth of experience and a cultivated vision to every project with a solid foundation in design theory. He works in many diverse styles and is constantly challenging himself to develop new design approaches. David brings his Designer's Eye to all his design projects to help expand and develop ideas, solve problems and discover unique solutions.
David owns and operates an award winning interior design office in Toronto and Rafters of Muskoka a retail store featuring fine furniture and accessories on Lake of Bays. Both locations offer complete interior design services including space planning, kitchen and bath design, furniture planning and selection, custom bedding and window treatments, and the development of design build plans. David has been passionate about creating new standards for country living. Following a motto of "interaction not distraction", he encourages clients to design their spaces surrounded by elements that give them pleasure. He believes good design is all about individuality.
David has given back to the community through his charitable support of the cnib Lake Joseph Camp, Gilda's Club, Baysville Library, Westerkirk House Wellspring at Sunnybrook Hospital, the Bigwin Boat restoration project and many other projects.
Patricia Wood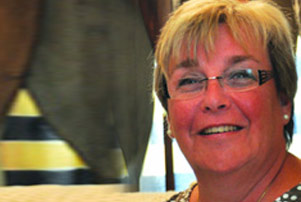 Pat has an extensive career in the home décor industry starting from her college years in Boston studying retail management and interior design.
Her success in college landed her a respected position within the Bowring Gift Stores in Toronto for over 25 years and managed key locations in the Toronto Dominion Centre, Eaton Centre and Sherway Gardens. While managing, she met profit goals standing 5th in a company of 65 stores, allowing for several awards in achieving sales targets and effective store displays.
On a personal goal, Pat also volunteered and was very active in the Family Association for 11 years chairing in many positions at her children's school. She was recognized by the Mississauga Peel school board for raising over $250,000. in donations.
She's definitely no stranger to the cottage life! Having been a Muskoka cottager since 1960, she's spent every summer up north with her own family and made the final move in 2003 as a permanent resident. She now calls it "Home Sweet Home"! Since then she's been the Operations Manager for Rafters of Muskoka handling the day to day activities, sales team, merchandising for both locations and buyer with David MacPhee for eight years and counting!
Pat truly has a passion in helping her customers with their décor needs and has the eye for selecting loveable items for their home or cottage. You can reach Pat at raftersofmuskoka@bellnet.ca to place any orders or to ask about Rafters' current promotions!